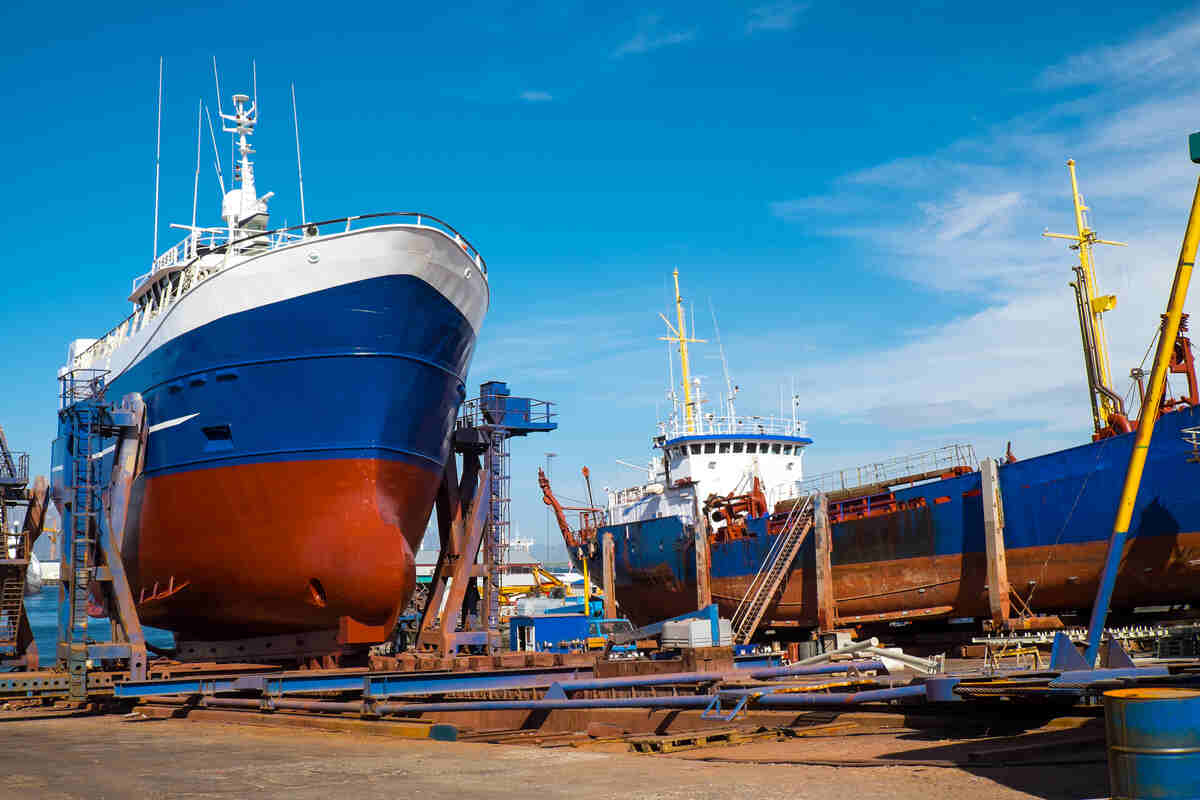 Shipping is a critical element of global trade and commerce. It deals with nearly 90% of all goods shipped! The goods transported daily include oil, metals, fresh or frozen foods, and factory parts. That said, virtually any industry directly or indirectly depends on the shipping sector.
The global maritime transportation industry is worth trillions of dollars, and its value is growing steadily despite ups and downs in the shipping sector due to economic crises and the financially unstable nature of the industry.
However, shipping depends on vessels capable of executing travels with different products. Also, constructing ships is a challenging, time-consuming process that takes at least 1.5 years for the medium to large ships. So, regardless of the reliability of the maritime transportation industry, the shipbuilding sector controls trade depending on the number of vessels constructed.
Here, we will explore the largest shipyards in the world, so read on to discover everything you want to know.
Hyundai Heavy Industries
One of the largest shipyards in the world, Hyundai Heavy Industries (HHI) is based in Ulsan, South Korea. It was founded as the heavy industries division of the Hyundai group. However, later, it was made into its own company that traded in shipbuilding, construction, electrical systems, and robotics.
Its seat manufacturing division focuses on vessels like VLCC ships, crude oil tankers, container vessels, LNG carriers, oil and natural gas drilling ships, LPG carriers, VLGC ships, and naval warships. Besides shipbuilding, HHI is interested in offshore technologies and the oil and gas sector.
STX Offshore & Shipbuilding
STX Offshore & Shipbuilding is a South Korean shipbuilding company with a broad global presence spanning most parts of Asia and some countries in Europe. It runs and operates shipyards in Europe through STX Europe and was Europe's second-biggest shipbuilding company. STX's operations in South Korea are based out of two primary shipyards at Changwon and Busan.
Over 40 years, this company has built more than 700 ships of different types. It specializes in LPG and LNG carriers, tankers, container vessels, FPSO vessels, and drilling ships.
However, STX Europe began divesting assets in 2012 due to financial issues. At first, it operated Cruises & Ferries, Offshore vessels, and other operations through 15 shipyards in Europe and Brazil. But following the dissolution of the company, STX Europe was filed for bankruptcy not so long ago in 2017.
Daewoo Shipbuilding & Marine Engineering
Considered one of the largest shipyards in the world, Daewoo Shipbuilding & Marine Engineering (DSME) is part of the "big three" of South Korean shipbuilding. It is a critical manufacturer for several shipping lines such as Maersk and trades in naval technology. This company has built submarines and warships for the navies of the United Kingdom and Indonesia.
Before the dissolution, it was exporting submarines to several other countries. Moreover, it specialized in building icebreakers, LNG carriers, container vessels, etc. However, due to mismanagement and allegations of fraud, DSME ran bankrupt. Nevertheless, it was bailed out by the government in 2017.
Samsung Heavy Industries
This company engages in shipbuilding and offshore EPC projects. Samsung Heavy Industries delivered 1,249 ships and offshore facilities by the end of 2019. And in January 2020, this shipbuilding company had 20 ships with 377,340 TEUs in the order book with an average vessel size of 18,867 TEUs.
Besides container ships, Samsung Heavy Industries has leading market shares in the construction of drillships, FPSO vessels, and LNG carriers. In addition, this South Korean company constructed the world's largest ethane carrier in 2014 and the first 23,000 TEU container ship in 2017.
Sumitomo Heavy Industries
Sumitomo Heavy Industries is an integrated manufacturer of ships, industrial machinery, automatic weaponry, bridges, steel structure, power transmission equipment, equipment for environmental protection, plastic molding machines, particle accelerators, laser processing systems, and material handling systems, cancer diagnostic and treatment equipment, etc.
The company deals with bulk carriers, runs a single-dock shipyard in Oshima, Japan, and supplies vessels to other parts of Asia and Europe.
Long is gone the time when people used magnetic compasses and other early navigation tools. Although the shipyard is relatively small, it can build and launch almost 40 vessels each year thanks to technological advancements and cutting-edge equipment and machinery.
Imabari Shipbuilding
One of the biggest major Japanese shipbuilding companies, Imabari, deals with the construction, maintenance, repair, and outfitting of ships built in the region. It is Japan's largest shipyard in terms of tonnage. Moreover, it has many construction and repair facilities.
In 2016, Imabari Shipbuilding had six times the tonnage of its closest Japanese competitor - Mitsubishi. Also, it had the fourth largest market share behind the other large shipbuilding companies based in South Korea and China.
Imabari has nine shipbuilding and maintenance yards, plus a new dry dock that can handle enormous container ships. In addition, it has offices in Tokyo and Amsterdam to manage marketing and company operations. Imabari Shipbuilding has acquired several regional competitors to consolidate its position.
Fincantieri
Fincantieri is one of the largest shipyards in the world. It is an Italian shipbuilding company based in Trieste and the biggest shipbuilding company in Europe. In a recent global expansion effort, it has acquired several other large shipbuilders.
Fincantieri operates yards of the shipbuilding company Vard and has added five shipyards across Europe to its manufacturing and assembly assets. Moreover, the company has acquired The Manitowoc Company in the United States and builds vessels for the US Coast Guard and Navy.
The company bought half of the dissolved STX France in 2018 and has extended its European presence. In addition, it has established services in the United States for shipbuilding in the region.
JSC United Shipbuilding Corporation
JSC United is the youngest shipbuilding company on this list. It is a Russian state-owned company that deals in shipbuilding and auxiliary services like maintenance and repair. The company was founded in 2007 to support Russia's shipbuilding economy using advanced technology and military shipyards to produce commercial passenger and goods vessels.
JSC United has a presence in Europe through the divested stock of the STX Corporation. Its main construction and repair subsidiaries are spread across three locations in Russia:
- Vladivostok
- Severodvisnsk
- St. Petersburg
Each subsidiary manages the many shipyards JSC operates. Moreover, it has acquired several other European companies which deal in the construction and marine industry.
China Shipbuilding Group
Formed in 2019 by the merger of China's two largest shipbuilding companies - China Shipbuilding Industry Corporation (CSIC) and China State Shipbuilding Corporation (CSSC), China Shipbuilding Group is the largest shipbuilding company in the world.
Both CSIC and CSSC specialize in the construction and maintenance of ships built across the nation. The divisions of CSIC carry out operations in the north and west, while CSSC supervises operations in the South and East. The companies deal in building VLCC vessels, LNG carriers, and military warships.
Besides commercial vessels, military ships are a major source of revenue thanks to China's expanding naval fleet. The China Shipbuilding Group also focuses on other shipping-related services, including machinery and equipment manufacture. In addition, Dalian Shipbuilding Company is the biggest shipyard in China and is a part of the CSIC.
Sembcorp Marine Limited
Sembcorp Marine Limited is a top shipbuilding and engineering company based in Singapore. Its primary business segments include repairs and upgrades, rigs and floaters, offshore platforms, and shipbuilding.
Its essential products include gas value chain vessels (CGL, LPG, LNG), ferries, renewable energy support vessels supporting green shipping, cruise vessels, offshore support vessels, naval support and security vessels, and research and scientific survey vessels.
Tsuneishi Shipbuilding
Tsuneishi Shipbuilding is Japanese leading shipbuilding and ship-repairing company. It is primarily engaged in shipbuilding and repairing. Moreover, it manufacturers various ships, including container carriers, bulk carriers, car carriers, tankers, and wooden chips. On top of that, it uses experience and cutting-edge technology to repair and remodel other ships.
Mitsubishi Heavy Industries
Part of the international Mitsubishi conglomerate, Mitsubishi Heavy Industries (MHI) has been the main maritime construction unit for the parent company. That said, MHI primarily works out of Japanese shipyards and handles the construction of military warships, passenger cruise ships, commercial vessels, and LNG carriers.
MHI has two subsidiaries that handle different elements of shipbuilding and other industries:
Mitsubishi Shipbuilding Co. manages construction, outfitting, and technologies integrated into ships through the shipyards at Nagasaki, Yokohama, and Shimonoseki.
Mitsubishi Heavy Industries Marine Structure Co. manages the building of large vessels and other maritime structures.
Mazagon Dock Limited
Based out of Mumbai, Mazagon Dock Limited is a public sector undertaking under the Indian government. It primarily deals with building and maintaining military vessels for the Indian Navy.
The company has expertise in constructing submarines and warships that have been part of the indigenization drive of the navy. Besides military ships, it also builds drilling platforms, offshore vessels, tankers, cargo carriers, bulk carriers, ferries, and other passenger vessels, such as steamships.
Cochin Shipyard Limited
Cochin Shipyard Limited (CSL) is the largest shipbuilder in India and primarily specializes in oil tankers and offshore vessels. Also, it builds and tests aircraft carriers for India since it has the biggest yard in the country.
Moreover, it builds various vessels for other countries in South America, Europe, and the Middle East. On top of that, CSL conducts maintenance and repair operations for the Oil and Natural Gas Corporation of India, runs repair facilities for the Indian Coast Guard, and builds Mobile Offshore Drilling Units for different companies worldwide.
Harland and Wolff
Based in Ireland, Harland and Wolff have substantial expertise in shipbuilding, maintenance, and repair. Note that its most famous projects are some of the biggest cruise liners ever built to date. The company serves as the main provider for the White Star Line, which deals in luxury ferries and passenger cruises.
Besides commercial shipbuilding, this company handles the construction and testing of ships of the Royal British Navy. Some of the ships built by Harland and Wolff include the 3 Olympic class ships of the early 1900s, including the RMS Titanic.
Moreover, the company has built various ships for P&O and the Carnival Corporation, which mainly deals in cruise vessels. Recently, Harland and Wolff started focusing on renewable energy because of its waning shipbuilding division.
Where Are Most Ships Built?
South Korea is the largest shipbuilding country in the world. It has a 40% market share. Not far behind is China with 36% of the market share, followed by Japan with 7% of the market share. Other countries have a market share of 17%.
Ship Safely by Sea, Land, or Air
After reading this article, you gained comprehensive knowledge of the largest shipyards in the world. With this information, you can make the best choice when it comes to shipping your products.
Unival Logistics can help you ship your products safely and easily by sea, land, and air. That is especially true if your products are of high value because we have shipping insurance not many can surpass. Contact us for any additional information, and we will be glad to help.