Shipping high-value items can seem unnerving. Because sending anything valuable across any distance comes with a lot of inherent risk, certain security measures are required to make sure everything runs smoothly. This is especially true when insuring your precious items for shipping, including when shipping diamonds. Understanding the whole shipping process is the first step toward successful transport of your valuable merchandise. Trusting the process is the second step.
How to Prepare a High-Value Diamond Shipment
Diamond shipping preparation requires care and attention to ready the items for transport.The individual seeking shipping ensures the merchandise is packaged securely and that the delivery address provided is complete and accurate. If shipping internationally, you must accurately declare the contents of the package with Customs to avoid issues at international customs checkpoints. Once contents are safely packaged and delivery information is verified, a reliable shipping and logistics team takes over.
Trust Your Diamond Shipping to Proven Professionals
Shipping costly items such as diamonds is an art. Although diamonds are a ten on the Moh's hardness scale, meaning diamonds are virtually impossible to scratch, professionals should still handle the shipment with utmost care.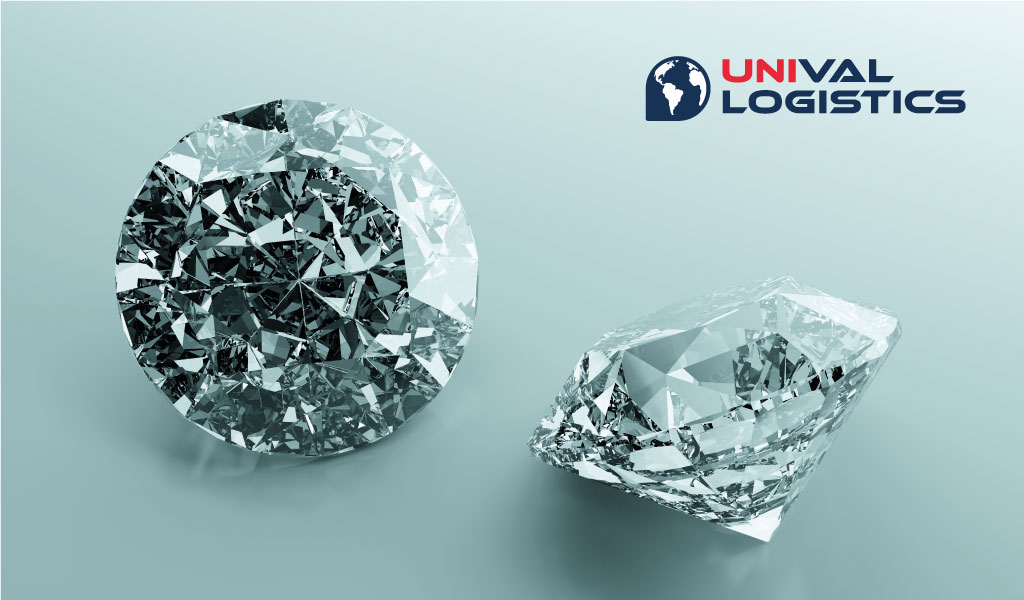 Security is the name of the game when shipping valuable merchandise. UNIVAL Logistics takes great care to package items to prevent damage.Shipping labels and packaging components are carefully crafted, never expressly listing the merchandise inside the package and thus deterring package theft. A good rule of thumb for shippers is to avoid using words like diamonds, gold, jewelry or other high-value indicators to maintain discretion.Listing the contents of the package as "parts" or "supplies" is a good practice.
The UNIVAL team tracks shipments daily and offers a tracking feature on its website to allow customers to follow shipments, too.These elements—and many others—add up to a secure, trackable process that ensures shipments arrive where they need to go and without disruption.
Insure Your Diamond Shipping
When it comes to precious merchandise shipping, insuring the shipment is a must. UNIVAL Logistics works directly with an insurance company so that every part of the shipping order—from packaging to shipping to delivery—is handled in-house, and that includes high-value shipping insurance. UNIVAL's shipping methods adhere to insurance company requirements to ensure every claim remains valid.
If need be, processing a claim through UNIVAL's insurance program functions like any insurance process—including the gathering of information, investigation, and approval—but the hassle is handled for you. The team works hand-in-hand with a FedEx team to process claims in a timely manner. Should something unfortunate occur during your diamond shipping process, UNIVAL will handle all aspects of the claim to get you the reimbursement you deserve. The chances of a delivery mishap are slim, but UNIVAL Logistics is a one-stop-shop to make the process easier if it is needed.
Diamond Shipping Requires Discretion
High-value shipping, like diamond shipping, requires discretion. When you need to insure safe delivery of jewelry, gems and other valuable merchandise, it is extremely important to take the proper precautions and employ state-of-the-art security processes to ensure that everything goes as planned. Trust the shipping of your priceless merchandise to professionals who have your best interests in mind.
Diamond Shipping Checklist
When shipping diamonds (and other high-value items), remember to:
• Package your merchandise securely in a jewelry box or protective case.
• Double-check the delivery address for accuracy, including street number, suite number/apartment number, and zip code.
• Declare contents of the package for customs purposes if shipping internationally.
• Disguise content information so jewelry is never mentioned on shipping labels.
• Schedule delivery so items do not sit in a shipping hub over a weekend or holiday.
• Trust your high-value shipping to a reputable logistics team.
• Require proof of delivery including scanned receipts and signature confirmation.
• Purchase insurance coverage for the shipment from a reliable source.
Why Choose UNIVAL for Your Diamond Shipping and Insurance Needs
UNIVAL Logistics has been serving as a trusted source for high-value shipping and logistics services for years. Assisting hundreds of business and individual customers ship tens of thousands of packages annually, UNIVAL is known for its exceptional customer service and one-stop-shop offerings for high-value shipping. The company prides itself on going beyond just preparing shipments and creating labels: it insures valuable items, tracks shipments up to physical delivery, and keeps in touch with customers every step of the way.
For more information on UNIVAL Logistics, or to get in touch with a logistics specialist about your high-value shipping needs, call or visit www.unival-logistics.com.