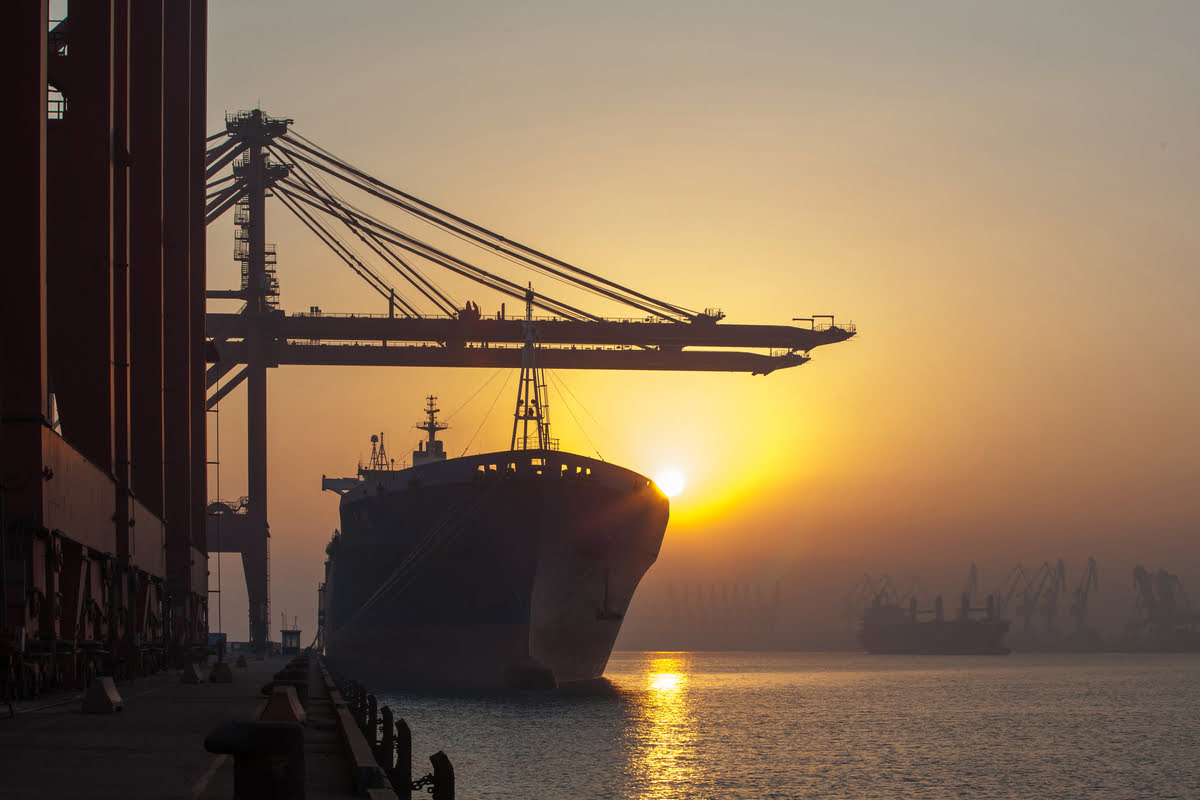 The introduction of the container ship has revolutionized the marine shipping industry as we know it. It's a type of ship that can hold huge quantities of cargo in containers, allowing for easy loading and unloading.
There are many types of container ships, with each serving a different purpose. To discover more about this type of cargo ship, keep on reading.
What Is a Container Ship?
A container ship is a vessel structured specifically to hold enormous quantities of cargo compacted in various types of containers. The process of shipping cargo in containers is called containerization.
One of the best ways of transporting goods is by container ships. They made it possible to ship large quantities of cargo because of the huge container ship capacity, and have changed global trade.
Container ships carry most marine non-bulk cargoes. Now, modern container ships move most of the world's non-bulk cargoes. The containers are of standardized size, meaning they can be easily moved to different modes of transport.
The container ships have become bigger because of the increasing demand in the market, cargo-carrying capacity, operating efficiency, and improvement in environmental processes and operations of a container ship in liner service.
What Is the Difference Between Cargo Ships and Container Ships?
The difference between cargo and a container ship is that a container ship is actually a type of a cargo ship. They both carry freight but in different ways:
Cargo ships move goods such as clothing, food, machinery, furniture, and other packaged freight.

Container ships also ship packaged goods, but they are stored in shipping containers.
Design Of a Container Ship
Container ships have a robust design. The hull is similar to the traditional bulk carriers and general cargo ships built around a strong keel. Note that the lower part of the vessel has a notable effect on the construction of the ship. There are lower decks, an engine room, fuel tanks, and a ballast. Moreover, a container ship has cargo holds, which are the areas where underdeck containers are loaded.
Inside the hold, cell guide arrangements guide the container to slot well, helping the crane operator to slide the container safely. Hatch covers lay on top of the holds, and containers are stacked on the top. Note that it's critical to maintain the cell guide because any damage may lead to unfavorable consequences.
Most modern container vessels do not have cranes. However, some do, especially smaller ones. That said, ships with cranes are called geared container vessels, whereas those without cranes are called gearless container ships. Geared container ships use cranes for self-loading and discharging at ports where cargo volumes are low. In addition, there are specific systems for securing the containers onboard.
Most container ships use lift-away types of hatch covers. They increase the carrying capacity and prevent water ingress inside the hold and fissure and the containers both under and on the deck. Moreover, hatch covers feature cleats that must be closed before the ship's departure and after every cargo operation.
Container ships also feature divided holds that separate each container, streamlining the filing of the containers. However, there are some differences based on the type of container ship. We discuss more on that below.
Container ships represent a majority in terms of the packaged goods shipped across the world. Because of the relevance and increasing demand for improved marine cargo transportation channels, there has been significant progress in the container ships' field, and such improvements are expected to grow even more in the future.
Types of Container Ships
Container ships have passed through different phases, and these phases have been classified as generations:
First generation: 1956-1970

Second generation: 1970-1980

Third generation: 1980-1988

Fourth generation: 1988-2000

Fifth generation: 2000-2005

Sixth generation: 2006-present
Besides generations, container vessels can be classified based on handling modes, sizes, and service ranges.
Handling Modes
Lift-on/Load-off (LoLo) container ship: LoLo ships are geared, meaning they can load and discharge the fright themselves using the ship's crane. They can operate without port cranes and do cargo operations independently.

ROCON container ship: ROCON ships feature arrangements that are such that the containers can be loaded on the deck or there is a separate hold for loading containers.
Container Ship Sizes
There are many types of container ships based on size, but the main ones are:
Panamax: Panamax ships were first introduced in 1980 and were of around 4,000-5,000 TEUs. They were limited to the max length of 294.1m, a breadth of 32.3m, and a draught of 12m so they could pass through the Panama canal.

Post-Panamax: American President Lines (APL) introduced new transportation, creating the post-Panamax type. In 1996, the introduction of Regina Mærsk initiated a new development in the container ship market with a capacity of 6,400 TEUs. In addition, the concept of cellular container ships was introduced wherein the cell guides ran from the bottom of the hold to tiers above the deck. This reduced expenses for ship owners because no lashing materials were used to secure the containers. Moreover, it accelerated loading and discharging and reduced container shifting.

Suezmax: Suezmax ships have nearly the same size as the Suez Canal, with an average capacity of around 12,000 TEUs, breadth of about 50-57m, and a draught of between 14.4-16.4m.

Post-Suezmax: Post-Suezmax container ships are large, with a carrying capacity of 18,000 TEUs, a breadth of 60m, and a draught of 21m. These ships are called post-Suezmax because their dimensions are too big to pass through the Suez canal.

Post-Malacamax: Post-Malacamax vessels are ultra-large container ships, with a size that emulates the maximum permissible draught of 21m of Malacca Strait. For a ship of this size to enter the ports, the port authorities must be ready. Currently, only two ports in the world can accept this size of the ship - one in Singapore and the other in Rotterdam.
Service Range
Feeder ships are used for short routes no longer than 500nm and trade only in the coastal areas. Their capacity does not exceed 1,500 TEU.

Mother ships are much bigger than feeders and are used in international trade.
ISO Containers
Intermodal or ISO containers are used to ship cargo and are designed for transportation by more than one mode, such as rail and truck or ship and rail. These shipping containers conform to the International Organization for Standardization (ISO) container manufacturing standards. ISO is an international standards organization headquartered in Geneva.
ISO containers are made in several standard designs, including dry, insulated, flat-rack, refrigerated, open-top, and tank. Dry ISO containers are enclosed, box-type containers used for general-purpose transportation.
ISO containers are produced in standard sizes with a width of 8 feet, a height of 8 feet and 6 inches or 9 feet and 6 inches, and a length of 20 and 40 feet. Some also come with a length of 45 feet.
Types Of Containers
History of Container Ships
The beginning of container shipping marks one of the most significant developments in the marine cargo industry, besides the improvements in navigation tools. Container ships have revolutionized how freight is transported worldwide, offering safety and security of cargo supplies. Now, some of the most significant shipping companies deal primarily with containerized cargo.
The first container ship was launched in the early 1950s and was designed to transport trains' cargo cars. These freight cars could be loaded and discharged from the ships using cranes and ramp systems.
Over the years, technological advancements have enabled even more feasible processes. However, crane systems still play a pivotal role in the loading and discharging operations of the containers to and from the ships' holds. In addition, specialized lashing and cargo handling systems are used to secure the containers.
A container ship is constructed to accommodate immense cargo loads. The load-holding capacity of a container ship is measured in twenty-foot equivalent units (TEUs), with the largest container ships carrying as much as over 16,000 TEUs. And because of such high capacities, some of the biggest ships in the world are container vessels.
Future Of Container Ships
There has been considerable progress in the container vessels' domain, and such improvements are expected to grow more in the days to come. In the future, container ships will have many challenges to face. Upcoming changes in regulations, a competitive market, increasingly stringent environmental laws, new technologies, and an increase in maritime traffic concerning the carrying capacity of the ships will be its primary issues.
The Importance of Shipping Securely
Thanks to container ships, transporting goods is easier than ever. However, shipping can still be challenging in terms of maritime security. For that reason, there is a high demand for secure delivery services that can safely and affordably ship high-value products.
UNIVAL Logistics offers secure package delivery and private shipping insurance, allowing you to relax while your goods are in transit. Our logistics professionals will find the best route for your packages and ensure you have the best insurance coverage. Besides that, you will be able to track your packages regardless of the location with GPS tracking tools.
UNIVAL logistics offers end-to-end shipping solutions and reasonable discount shipping rates with full-value domestic and international insurance. So, if you need a reliable shipping company and private shipping insurance, contact UNIVAL Logistics.