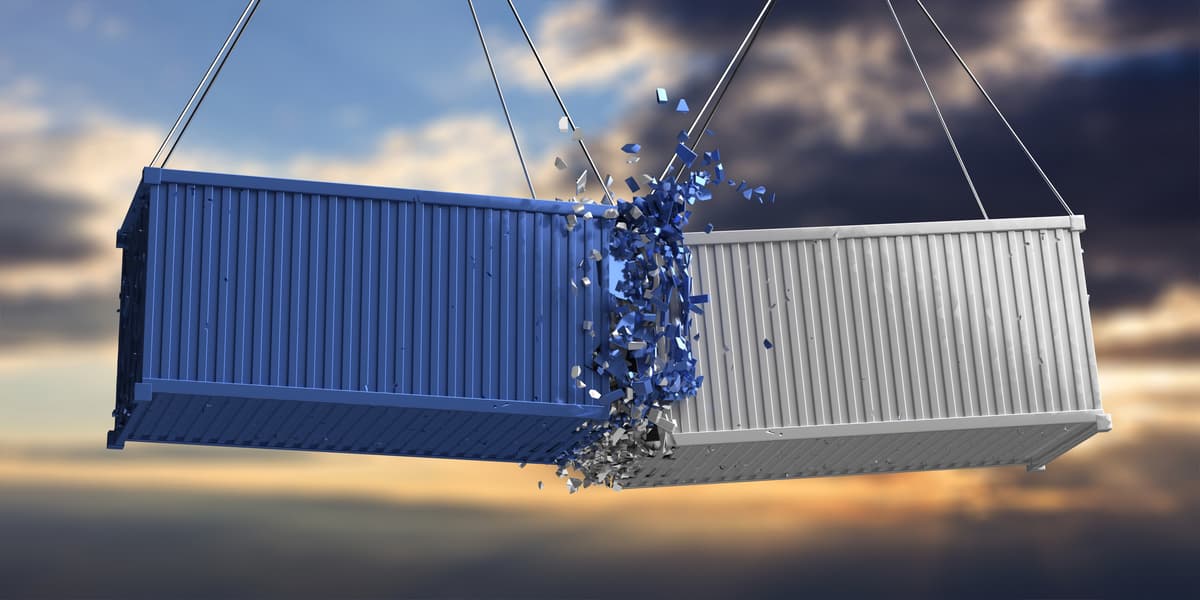 Taking out shipping insurance will increase your shipping rate, you should be clear on that. But the benefits of shipping insurance far outweigh the additional cost. In fact, shipping insurance will save you money in the long run, particularly if you run a business that delivers to clients.
In this article, we will take a look at some statistics that demonstrate why shipping insurance has become a necessity, explain what shipping insurance is in practice, explore some benefits of a good insurance policy, and expound on how shipping insurance works.
By the end of the article, you should be able to distinguish between a good and bad insurance provider and know-how to choose the best insurance policy for your specific situation. So, let's start by explaining the need for shipping insurance.
Is Shipping Theft on the Rise? A Few Reasons You Should Insure Your Shipments
Whether a package is stolen in transit, from the recipient's front porch, or a mailing facility, shipping theft is a frightening issue that happens across many different shipping industries. According to the Federal Bureau of Investigation's latest data regarding cargo theft, cargo theft is an issue that costs approximately $140,000,000 annually in the US.
Out of the $140,000,000 in value that was stolen, only about $4,000,000 was recovered. Thus, if your cargo is stolen, there is less than a 3% chance that you will be able to recover your goods. Cargo theft appears to be continuing to rise year over year, and according to some studies, computer electronics are targeted the most.
If the rate of cargo theft is that high, domestic and international shipping for smaller parcels is certainly at risk. Most packages have a fairly long way to go before they reach their final destination, and discount shipping rates may not include shipping with insurance. It's easy to pass off small package insurance as an unnecessary fee, but the truth is that it's an important add-on to your package delivery.
There are at least 20 million containers currently traveling across the ocean, and one of them may contain your package. With shipping theft on the rise and little accountability for small parcels without insurance, it is likely that at least one of your packages may be lost or stolen. If you collaborate with shipping insurance companies, this is an issue you won't have to worry about.
Cargo Theft Should Not Be Your Only Concern
Even if you're not concerned about theft, cargo damage is a common occurrence. Whether by plane, train, or automobile, damage can always be sustained. According to UK Pandi Club, approximately 25% of damage to parcels is physical damage. Without adequate shipping insurance, you might not be able to get a refund or a replacement for your damaged package.
When you combine the possibility of your packages getting stolen or damaged in transit, shipping insurance presents itself as the obvious solution. Whether you are ordering or shipping a piece of jewelry or a piece of art, do not let discount shipping rates fool you into not investing in shipping insurance.
What Is Shipping Insurance?
Shipping insurance is a service provided by carriers and insurance companies that enables senders to be reimbursed if a package is stolen, lost, or damaged during transportation. The shipping company takes on the financial liability for a package or parcel up until it arrives at its destination.
Exploring the Benefits of Investing in a Package Insurance Policy
If you or your business sends or receives a lot of packages in the mail, you may want to consider investing in an affordable package insurance policy in case there are ever any issues with your deliveries.
Package insurance offers many benefits, especially for those who may have business operations that involve sending and receiving packages. Here are just a few benefits of package insurance, besides getting reimbursed if a package gets damaged or stolen.
Shipping Insurance Lets You Track Your Packages
First, having package or parcel insurance takes all the guesswork out of sending and receiving packages. You will be able to track the locations of your packages, and you can set up a delivery using any device with an internet connection. You'll never again have to wonder whether or not something got lost.
If you're shipping valuable items overseas, having a package insurance policy can give you some much-needed peace of mind. On the rare occasion that something does get lost, you will be reimbursed the full value of the item. By having insurance for shipping, your satisfaction becomes a top priority, and you simply will not get that kind of service with regular shipping.
You Get a Grace Period to File Claims
Next, if you are concerned about sending or receiving packages with fragile contents, you can rest assured that having a package insurance policy will prevent you from being inconvenienced if something breaks. Most insurance companies give you a grace period of up to 30 days to report any damages or missing items and file a claim.
A Shipping Insurance Policy Provides Discounts on Future Shipping Rates
Finally, having a reliable shipping insurance policy gives you a discount on all future shipping rates. If you are a business owner, you know that shipping can get expensive. Almost 90% of everything we buy arrives via ship, and it's important to protect your assets.
How Does Shipping Insurance Work?
We have discussed the need for taking out shipping insurance and explained the benefits that go beyond being reimbursed for your damaged or stolen items. Now, we should explain how shipping insurance and what shipping professionals would like you to know.
1. Understand Your Shipping Insurance Coverage
Carriers will provide automatic coverage up to a certain amount. After that, it is the responsibility of the shipper to purchase additional insurance. If the value of your parcel exceeds the automatic coverage limit, you will need to purchase insurance for the entire package.
You can declare a certain value for your merchandise, allowing you to claim losses from the carrier up to the declared amount. If no value is declared, the carrier will default to their included shipping insurance ceiling. If the declared value exceeds the ceiling, there will be additional costs incurred on the shipper. This additional fee guarantees loss prevention for the shipper.
Three important things to know as a shipper:
While carrier shipping insurance is a nominal fee, it can add up if you ship regularly.
Most carriers have included coverage at a maximum of $100 per shipment. Shippers can choose to insure their items for up $50,000 per parcel.
Some carriers will not cover items such as coins, cash, or precious stones.
2. Declared Value
Declared value and shipping insurance are not the same. In fact, most carriers will not outline the difference in hopes you will not notice. Additionally, many high-volume carriers fail to immediately notify the shipper of lost parcels, delaying the claim filing process to the point where the shipper could miss the deadline.
Shipping Insurance
Shipping insurance is typically included up to a certain amount with each carrier for free.
The carrier will assume all risk for lost or damaged items during transit.
Shipping insurance must be purchased for any amount exceeding automatic coverage.
Declared Value
Declared value allows the shipper to incur losses up to the declared amount.
If declared value exceeds automatic coverage, the shipper foregoes their free coverage and must purchase insurance for the full value of the item(s) being shipped.
To collect losses, the shipper must file a claim with the carrier.
3. Filing a claim
Submit the claim within the specified deadline.
Send in all relevant documentation, including, but not limited to proof of parcel value, proof of insurance, shipment documents, and repair estimates.
Wait 5-30 business days to receive a refund and/or resolution.
4. Benefits of Third-Party Coverage
Third-party coverage will cost you more upfront, but it will cover all shipments made within a specified amount of time. Over time, you typically incur much lower shipping costs. Plus, it includes door-to-door protection against loss, damage, or any other unforeseen event.
This type of coverage ensures that you know exactly what is covered, you receive personalized service for claims, and you can rest assured that your package will be handled with as much care as if it were in your hands.
The benefits of third-party insurance coverage include:
Lower cost coverage than typical carriers
Personalized service
Discounted and higher limit shipping insurance
Savings benefits for high-volume shippers
Easy claim filing and recovery
Exclusions to Shipping Insurance
It is important to familiarize yourself with the exclusions of shipping insurance in order to understand what coverage you actually have. Common exclusions include:
Wilful misconduct by the assured (the receiver) - insurance fraud
Items that may not be insured according to the carrier's policies
Inherent vice
Loss or damage caused by improper packaging
Unexplained loss
Latent defects
Incorrect addresses or zip codes.
Types of Shipping Insurance
There are three types of shipping insurance: carrier-based, third-party and self-insured. Each type has its own unique benefits that can help you save money and ensure that your shipment is covered against damages or losses.
Carrier-Based Insurance – This type of insurance is provided by the carrier and offered in their contract of carriage. It is provided at no additional cost, but it usually limits the coverage to a certain amount and does not cover consequential damages resulting from lost or delayed items.
Third-Party Insurance – Third-party insurance providers offer full coverage for your shipment at an affordable rate. This type of insurance provides more comprehensive coverage than carrier-based insurance, and it covers consequential damages resulting from lost or delayed items.
Self-Insured – Self-insurance is when a shipper assumes all risk for the shipment and does not purchase any insurance. This type of coverage is usually only recommended for shipments that are low-cost and/or of extremely low value. It can save money in the short term, but the shipper will be responsible for any losses incurred in the event of a claim.
No matter what type of shipping insurance you choose, it is important to understand how coverage works and to identify the potential risks of not having shipping insurance before making a decision. This will help ensure that your package arrives safely and without incident.
Interested in Purchasing Shipping Insurance?
If you decide to go with a third-party shipping insurance company, make sure it can meet your needs, deliver high-quality service, and eliminate the stress from shipping. Unival Logistics provides shipping insurance of up to $150,000 in value at premium rates.The filing process is as painless as possible, and each shipper is provided with a designated customer service representative who works diligently to resolve any issues.
Unival Logistics has been a trusted shipping option for 18 years, offering a proven and effective step-by-step procedure to handle highly valuable cargo - large or small, discounted shipping insurance, a network of terminals around the world, secure package delivery, and a streamlined process that eliminates all of the extra work for the shipper.
So, contact us today to make sure your high-value package is fully protected during transportation and you are getting the best price!