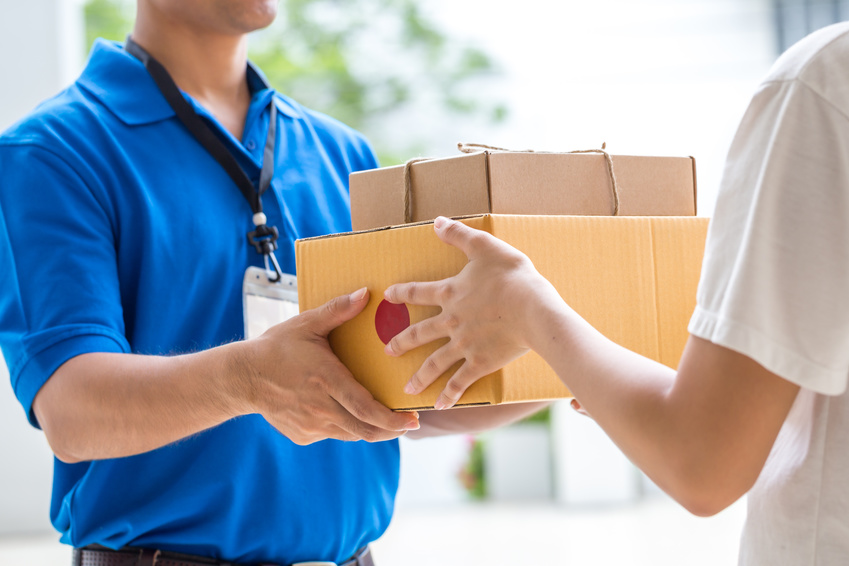 No matter what you are sending or where it is going, there is one thing that should be on your mind: making sure that it gets to the recipient. Consequently, you should learn how to send a package securely. And secure shipping starts with understanding some basic principles and proper packaging.
In this article, you will learn how to make sure that your package or parcel gets to its destination on time and intact in five easy steps. We will also discuss how shipping should be done if you are a business that delivers to customers, while focusing on shipping options that you should avoid in order not to anger your customer base. Let's start by explaining how to ship a package.
1. Package Your Shipment Securely
Start by measuring the items you are sending and choose an appropriate-sized box. Mentioning this may seem superfluous, but there are 2 good reasons why you should do it:
Shipping rates are in part determined by the dimension of the package (the other three major variables are weight, distance, and speed). Thus, by using the smallest boxes necessary, you will minimize the cost of shipping (and likely save a bit on the price of the box itself). This is particularly important if you are a regular shipper or ship large quantities, because the costs quickly add up.
The other reason is safety - packages will inescapably bump and jostle in transit; the less space there is in the box for the items to move around, the less likely they are to get damaged. After you have chosen the correct box, reinforce all edges with two-inch tape. Brown or clear packaging tape, reinforced packing tape, or paper tape should do the trick.
Once again, when your package is in transit, it may roll around in the back of a truck, or it may be shuffled when it reaches a shipping center. No matter how heavy-duty the packaging is, it is good to play it safe and reinforce any perforated edges.
2. Addressing a Package Clearly
Remember that when your package is delivered, the handler has to read the address you write on the package. If your numbers or letters aren't written clearly, your package may end up on someone else's doorstep. Type out your shipping label if you don't have the best handwriting, and maybe even have the recipient sign for the package, to make sure that they receive the correct item.
In case you run a business, even if it is a small one, printing your shipping labels is a necessity - it demonstrates professionalism, cuts down the time spent on preparing the packages, and improves the chances of the package reaching the correct recipient. Additionally, if your carrier mismanages the delivery, you can clearly show that it was not due to unclear labeling and easily get reimbursed.
3. Don't Send Restricted Items
All carriers have a list of restricted or prohibited items that may not make it past the point of collection. These items may be refused, returned to the sender, or even destroyed. For security reasons, carriers cannot accept these items, so it is best not to even try shipping them. Even if you think something may make the perfect gift, check the list to make sure you are in the green - some items you may assume are perfectly fine to ship are not.
For instance, there are various state and county prohibitions on shipping alcohol. While they often refer to the selling and distribution of alcohol, sometimes they also affect sending it as a gift. On top of that, many major carriers have company regulations that prohibit them from shipping alcohol and will not process the package at all. In short, check with your carrier whether you are allowed to ship your item.
4. Track Your Shipments Online
Each shipment should be assigned a tracking number, so you will know the approximate location of your shipment at all times. If your package does not reach the recipient within the estimated delivery dates, it would be worth checking where the shipment was last seen. If your shipment is marked as delivered, you may have become the victim of theft or a system error. Contact the merchant or shipping carrier directly in order to determine the cause of the loss.
5. Insure Your Package or Parcel
Package and parcel insurance with a secure delivery service gives you confidence that your package will be shipped safely and efficiently. If something does happen to the shipment, your package is covered, and will be replaced or reimbursed. Secure package and secure parcel delivery is very important, and shipping with insurance will only help you achieve this.
Taking out insurance is especially important if you run a business that delivers high-value items. Shipping with insurance will increase your shipping rates, but will pay off in the long run. Getting full-value reimbursed for just one luxurious item will more than make up for the higher shipping rates.
3 Shipping Options That Anger Customers
We have discussed how to ship a package properly, but we should also explain what business owners and retailers should avoid. During the holiday season and beyond, shipping remains one of the biggest causes of stress in the e-commerce community.
Between inflated shipping costs that cover package insurance as well as secure shipping, to the trend in holiday "porch pirates" who steal unattended packages, shipping can be a nightmare that lasts beyond the check-out screen. But how do retailers avoid these customer frustrations? It is somewhat simple, really. Here are the top three things to avoid when shipping a package.
Failure to Track Down Shipments
Once the shipment is in the hands of the carrier, there is little control that the retailer has over the package. However, not caring about the status of a delivery will likely result in you losing a customer. Instead of passing the blame to someone else, take some initiative and look at the tracking details.
The tracking report should show who handled the package last, as well as the exact time that the package arrived at its last destination. If the package was reported to have been delivered but the customer never received it, there should be some investigation into the possibilities of theft, system error, or a mislabeled address.
Making the Customer Wait for Refund or Replacement
As the merchant, you are responsible for filing claims with the shipping carrier, since you are the one that contracts them. In the case of a lost shipment, customers expect you to be proactive. Whether the loss or damages were the fault of the merchant or carrier, it is the responsibility of the merchant to make sure that the claims are processed and the customer is reimbursed as quickly as possible.
Raising Your Shipping Costs to Include Insurance
Although package insurance is an important option, it should not be a requirement. Not all customers want or need to have their packages insured, and using shifty practices to force them to pay more without a choice can result in severe sticker shock when the customer reaches checkout.
Offering the option for package or parcel insurance allows customers to choose whether or not they want the service. The largest shipping containers can fit up to 15,000 packages. It is easy to lose track of a shipment with so many to handle.
For small, expensive packages, shipping with insurance is very wise, as they can be easily misplaced. In these cases, it is recommended that a customer choose a secure package delivery option. However, the customer should still have the option to refuse, even if it is in their best interest.
How To Ship a Package Securely - the Simplest Solution
The easiest way to make sure a package will reach its destination is to contract an experienced logistics company. Unival Logistics provides start-to-finish shipping services, to make sure that packages are always traceable and don't get put into the wrong hands. You can also take out full-value insurance at premium rates for your more expensive items.
At the end of the day, worrying about a package safely reaching its destination should not be your concern. Unival Logistics will make sure your packages travel via the safest and fastest routes and gets tracked at each leg of the journey, all the while being fully insured.