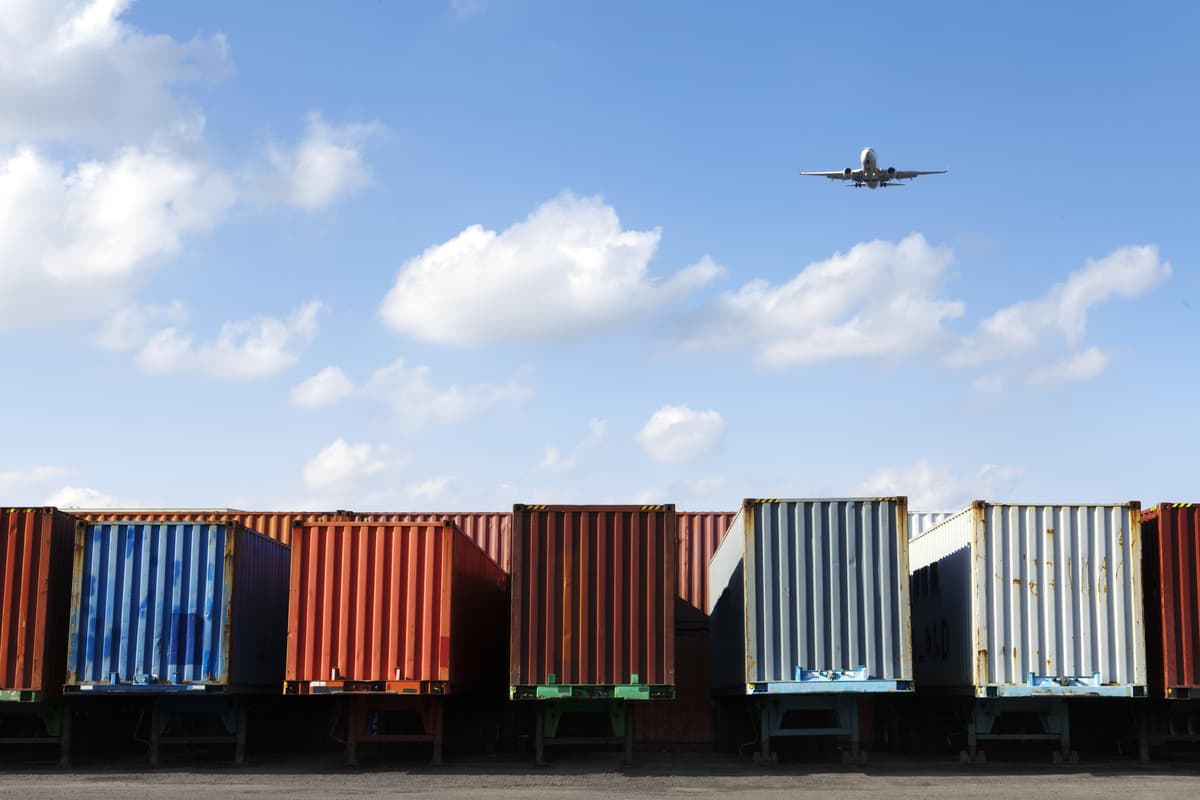 The differences between transporting goods by air or sea may seem self-evident. In truth, the general differences are rather obvious. However, for business owners that regularly deliver to their customers, it is not enough to understand the generalities – the intricacies of air freight vs. ocean freight are just as important for a successful logistics operation.
And that is what this article will discuss. By the end, you will understand the differences in cost and delivery time, the limitations of ocean or air freight, and the impact on the environment. Ultimately, your decision is conditioned on what services your business needs, so let's explain the contrast between air and sea freight.
Air Freight vs. Sea Freight Cost
While there are many things to debate regarding air freight vs. sea freight, the cost is not one of those things. Air freight is more expensive than sea freight. According to a study by the World Bank, transport by air is 12 – 16 times more expensive than transport by sea (and 4 – 5 more expensive than transport by land, which makes sea freight the cheapest option).
To put it into perspective – if your package were to cost $100 to ship by sea, it would typically cost between $1200 – $1600 by air. For this reason, most professionals only recommend sending packages by air if the cost is not more than 15% - 20% of the value of the item.
The Accessibility of Cargo
However, there is one additional factor that can somewhat offset the dominance of sea freight regarding the cost – the accessibility of the goods. As far as transport routes go, it is easier to deliver cargo by air than by sea.
Consequently, if you are delivering to customers and use sea freight, you may need to use multiple modes of transport before your items reach the carrier that will deliver the items to the end customer. Additionally, the high volume of traffic at seaports may cause delays, forcing you to pay detention or demurrage charges.
By no means is air freight cheaper, even if you end up paying for multiple modes of transport and detention or demurrage charges. However, these additional costs should still be considered when contracting a carrier, as they may affect the bottom line.
Time Spent in Transit
Similar to the air freight vs. sea freight cost, there is a clear winner when it comes to time spent in transit, just in the opposite direction. Air freight is faster than sea freight. For one, the journey time of ocean ships is longer than airplanes. On top of that, inclement weather, delays in ports, and customs can also add to the time spent in transit for ocean freight.
While air freight still needs to clear customs and planes can be affected by inclement weather, the delays are much shorter. The predicted arrival time of air freight is much more accurate. Consequently, air freight is the better option if time is of the essence. However, there is one additional relevant factor regarding the transport speed of ocean freight.
LCL and FCL Shipments
Less than Container Load shipments (LCL - when you send a smaller shipment that does not fill an entire shipping container) traditionally took significantly longer to ship than Full Container Load shipments (FCL), due to the time needed to consolidate the cargo, which added to the difference in transit time between air and sea freight.
Currently, many companies offer express/expedited LCL services, which cuts down on the time but at an increased price. Without a doubt, transporting cargo by air is still much faster, but the difference is not always as stark as it used to be.
What Type of Cargo Can You Send?
When discussing air freight vs. sea freight, it is also important to understand what goods you can send. In short, you can send more types of goods by sea than by air. Allowable goods are regulated by both airline policies and national laws and, as such, there is no comprehensive list. However, here is a list of goods that are traditionally prohibited from being sent by air:
Toxic items
Flammable items
Biochemical products
Gases
Items that pose a health risk
Items with magnetic properties
Air Cargo vs. Sea Cargo Safety
There is no significant difference in the safety of your cargo when sent by sea or air. Human error during handling is always a possibility, but all professional carriers have policies that minimize the chance of your packages being damaged. Still, for high-value goods, it is always a good idea to consider taking out shipping insurance.
Air Freight vs. Sea Freight Carbon Footprint
Finally, we get to the impact on the environment – the air freight vs. ocean freight carbon footprint discussion. And the answer here is clear – sea freight produces a minuscule amount of CO2 emission compared to air freight. Consequently, sea freight is a much more environmentally friendly shipping option.
To Sum Up – Air Freight or Sea Freight Comparison
Let's sum up the air freight vs. sea freight comparison in clear pros and cons.
Air freight:
Faster +
More expensive –
More prohibited items –
Larger environmental impact -
Sea freight:
Slower –
Cheaper +
More items can be transported +
Lesser environmental impact +
Additionally, both methods of transport are comparably safe. At the end of the day, sea freight and air freight are separate services – what the better option is depends on what services you need.
Why Worry About the Routes Your Goods Are Taking?
Choosing how to ship your packages can take up a lot of your time. Instead, you can partner with Unival Logistics to take care of all of your logistics needs. We provide end-to-end shipping solutions and will make sure your parcels travel via optimal routes and that they arrive safe and on time.
In addition, we provide full API integration, real-time package tracking, and full-value insurance for high-value items. Leave the logistics side of your business to us, while you focus on running it.