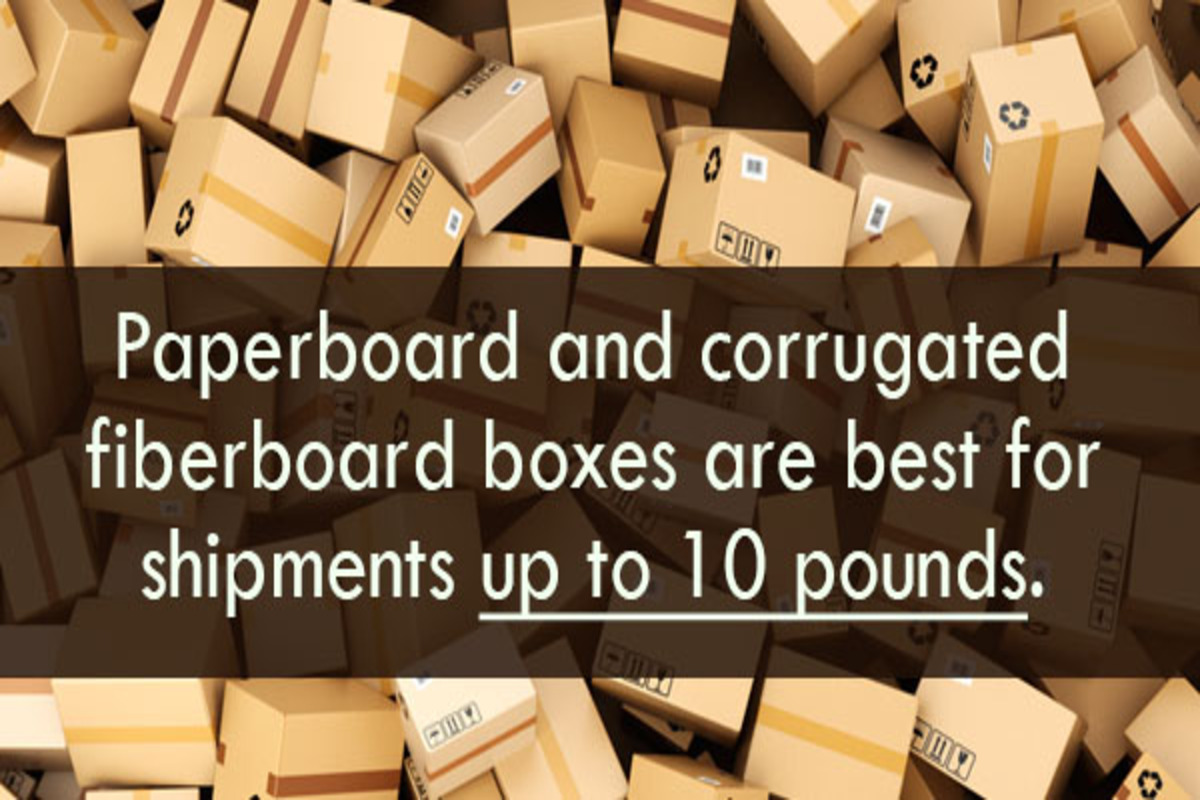 A lot of people forget about shipping fees until they start packaging. In addition to the cost of the item, there are a number of other costs that come along with packaging up shipments to be sent off to their destination. Consequently, the first step in finding the cheapest way to ship a package is understanding all of the associated costs.
Whether you are a business shipping items to your consumers or an individual shipping to another individual, shipping materials and costs can really add up. Here's how you can guarantee the cheapest box shipping rates possible without sacrificing quality transport from A to B.
1. Recycle Your Shiping Material
Instead of purchasing a new bag of packing peanuts or a roll of bubble wrap every time you need to ship an item, conserve all of the materials that you've accumulated from shipments sent to you. Reusing shipping materials is the first step in getting to the cheapest way to ship a package, particularly for businesses that ship and receive items in large volumes.
Secure shipping is always a top priority though. These materials should be in relatively good shape as long as the items had been packaged well and nothing has rattled around too much. You can also save boxes that have stood up to past shipments.
While couriers from the three major shipping agencies can sometimes be rough with packages, most are very careful to preserve the integrity of the box shipment and will make sure that it stays intact.
These boxes can be relabeled, retaped, and sent back out with a new shipment inside. Paperboard and corrugated fiberboard boxes are best for shipments of up to 10 pounds, but anything heavier will need more heavy packaging.
2. Package Your Item Well
Package your item well. Whether you've purchased new shipping materials or recycled old ones, it is important that you use them to package your item securely. Again, you cannot guarantee a safe shipment in most cases, so wrapping up your items tightly and making sure that they don't roll around inside the box is crucial - especially for those smaller, more delicate items.
Reinforce the edges of your shipping boxes with heavy-duty tape, too. If you don't make sure that your package is sturdy and secure, you may get stuck paying for damage costs down the road. You can take out full value insurance, but the cheapest way to ship a package is still to minimize potential damage.
3. Track Your Package
You want to make sure that you know where your shipment is going at all times, so tracking your package is of paramount importance. Losing track can cause potential problems and additional fees down the road. If there is an issue and your package has not arrived in a timely fashion, it is important to get in touch with the shipping company quickly in order to resolve the problem as efficiently as possible.
4. Forgo Shipping Insurance in Some Cases
For those small, menial items, forego insurance. Most shipping insurance companies will not suggest this, but it is true. In many cases, shipping with insurance can cost more than the cost of the item itself. Still, the cheapest way to ship a small package of little value can be to ship it without insurance.
However, answering - what is the cheapest way to ship a package? - correctly will depend on your specific situation. For more expensive items, you should always sign up for package insurance. Whether big or small, these valuable shipments need some extra protection. Saving money on box shipping rates does not matter much if these packages are not sent securely.
What Variables Will Always Affect the Shipping Rate?
Besides saving money on box shipping rates, understanding the variables that increase or decrease the price for all shipments should be the next step in finding the cheapest way to ship a package. In some cases, you will have no influence on these variables, but in others, you may be able to choose the less costly option.
The variables that affect shipping rates are:
The dimension of your package. Because space is limited in delivery trucks, larger packages will incur bigger shipping costs.
The weight of your package. The heavier your package is, the more you will need to pay. The weight of the package includes the weight of the packing materials and the box, in addition to the weight of the item being shipped. We should also note that most major carriers will round up the weight, e.g. a 5 pound 6 ounces package will be counted as a 6-pound package.
The travel distance. The math here is simple - the farther your package needs to travel, the higher the shipping rate.
The shipping speed. Different rates apply to differently prioritized package shipping. Express and overnight delivery will cost more than 3- or 5-day delivery.
What Is the Cheapest Way to Ship a Large Package?
Besides applying the tips for saving on boxing rates, you should be mindful of the box you use for shipping large items. A relatively common mistake is using a box that is too large. How this happens is understandable - you are unsure if your item will fit in the box, so you use the biggest box you can find.
However, this increases the shipping rate because of the dimension of the package. While the weight added is negligible, the package takes space from other items that could be loaded onto the delivery truck, consequently increasing the price. Cheap shipping necessitates measuring your items and finding appropriate-sized boxes.
What Is the Cheapest Way to Ship a Small Package?
The same applies to shipping small items. However, you may not need to use multiple boxes, but combine all the items into one box. Measure your items and see if you can cut down on the combined dimension by fitting them all into one larger box.
These are all incremental changes and probably will not mean too much if you are a one-time shipper. But being aware of the details and minimizing the costs in each step of the process, without sacrificing the quality of shipping, is important if you are running a business that delivers. All of these savings add up when the volume of shipping is high.
How Do You Shop for the Best Shipping Rates?
The cheapest way to ship a package is by partnering with a logistics company with experience. With the help of UNIVAL Logistics, you can guarantee a safe shipment while also keeping your box shipping rates as low as possible. We will plan optimal routes for your shipments, track them at each leg of the journey, and provide full-value insurance at premium rates where it is needed.