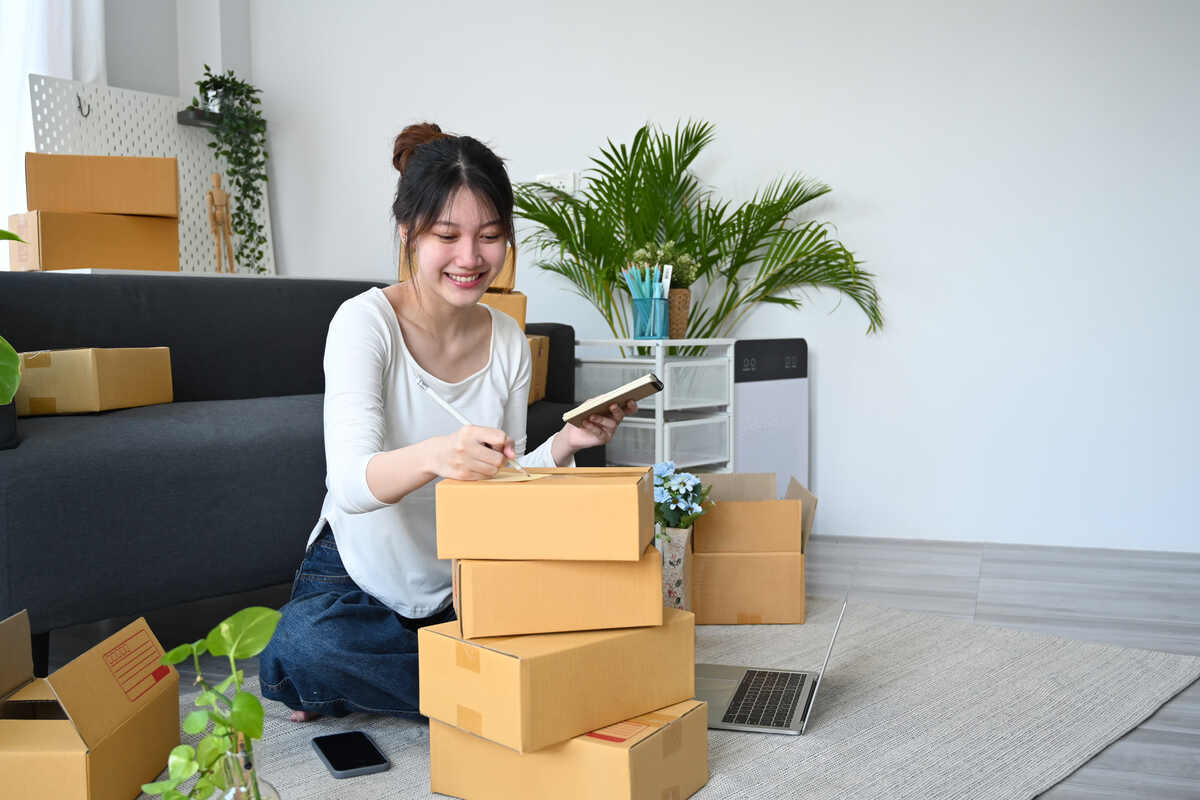 The global consumer electronics market is growing day by day and is expected to reach around $1.14 trillion by 2026. This means the demand for shipping electronics across the globe will also increase. In this article, we'll walk you through some of the crucial steps and share tips that will ensure the safe arrival of your goods to their destination. Let's dive in!
Shipping Electronics: Packing Tips
Find the Best Strong Boxes
Finding the best strong boxes for your packaging often comes down to choosing between two types, chipboard or cardboard. When finding the best strong boxes for shipping electronics you would want to ask yourself- is your cargo more in need of support or protection?
In case you are looking for better support - chipboard is the way to go, as it takes up less space when stacked. Also known as particle board, it is a low-density fibreboard made out of wood chips and most often resin pressed together and extru
However, if it's safety and not so much support that you need, corrugated boxes are sturdier and provide better overall protection.
Corrugated Boxes
Corrugated boxes used for packing electronics have double walls with two layers of corrugated fluting. A layered design of this type of disposable container ensures a lot of strength, making them a good fit when it comes to shipping large and bulky products.
These boxes consist of three layers: the outer layer, the middle layer and the inside layer of cardboard. And the thicker layers the stronger the box.
Every corrugated container for shipping electronics is manufactured and engineered in such a way that we know exactly what and how much it can hold safely.
It is more durable compared to other types of boxes, and able to endure a good deal of force. The 5-ply fiberboard is one of the favourite heavy-duty packaging choices, especially with high-volume equipment shipping.
Get Void Fillers for Cargo Security
You have chosen to ride box and you have your goods ready, now let's see how to pack electronics for shipping inside a container.
Once you have placed the product in the box there will most likely be empty gaps, an underhang, or extra space in your packaging, this is why the product you are sending needs protection to not move around and absorb shock.
The void fillers will assure that the cargo is not moving giving it proper cushioning. Made out of paper or corrugated cardboard, its honeycomb structure will hold the products in place during transport and prevent breaking or other damage.
Despite what you may think at first, void fillers for shipping electronics can be quite aesthetically pleasing, and improve the look of your package if they are specifically designed to complement the product you are sending.
Use WAT AKA Gummed Tape
Water-activated tape is a special type of adhesive which is not pressure-sensitive like masking tape, but rather it activates by using water, as its name suggests. This type of tape is dry until it is activated, it bonds with the packaging materials using gum and is not toxic.
This is why it's also called gummed tape, as the adhesive looks like gum up until it comes in contact with water. At that point, it turns into a fluid which adheres to the parcel by penetrating the surface of the cardboard. This makes for a strong bond guaranteeing the seal will not open in transport which makes shipping electronics that much safer.
Shipping Laws and Regulations
One of the most important things is to be familiar with the laws and regulations of the countries or states that you are shipping goods to and from. Reading up on all requirements guidelines and regulations will prevent delays or issues with customs clearance procedures.
Knowing these rules will help you determine the time that your shipment might take if you are shipping internationally because certain countries are more expedient in their customs procedures than others. Looking carefully into the shipping electronics customs fees will make sure there are no surprises. Pay attention to all the documentation needed and the labelling required. Another thing to look into is the device itself, as it as well may have very specific requirements for shipment so that the warranties and guarantees still apply on arrival.
Shipping Insurance
Even with the best protection, damages may still occur. This is where shipping insurance comes into play, and your choice can make all the difference. Most shipping companies offer their own insurance and are very reliable, but you can also go for a third-party option when shipping electronics.
There are some items that shipping services and insurance companies exclude from their coverage and there are electronic goods that fall into this category. In some cases, you can pay an extra fee for additional insurance, but if the item is already initially excluded the extra payment might not do much.
For your insurance it is best to take photos of the product before shipment, should you need to file a damage claim later, as it may expedite the procedure. This is useful both for individuals and those in the business of electronics drop shipping.
Shipping electronics: The Cost
The price of shipping electronic equipment, be it domestic or international, is mainly determined by the distance, the weight, and the company you choose. Of course, flat rate options offer shipping at the same price as long as the package fits in the designated box, but that will often not be the case for electronic goods.
The price will vary depending on the service you opt for, and express delivery will always come with a larger fee, especially if you are shipping electronics internationally. Same-day deliveries are often the most pricey ones but within the same state or country, they provide a business with satisfied customers, as last-minute buyers rely heavily on this service, and delivery times will sometimes significantly set you apart from the competition.
Read the fine print and pay attention to the weight limitations. Determining the best carrier and the best price for your electronics package will take some research and getting a better understanding of the costs will keep you safe from breaking the bank.
How Long Does it Take to Ship Electronics?
If you are shipping an electronics package within the country of your residence the expected time I'm of arrival would be 5 to 7 work days. Using priority services this may be lowered to a day or two or even the same day delivery. Express shipping is always a bit more expensive but in some cases well worth it.
Shipping electronics internationally can take anywhere from 2 days to 4 weeks depending on the distance and the weight of the parcel. The delivery time is also heavily influenced by the customs policies and procedures at the destination. Keep in mind that some service providers do not work on Sundays, and weekends might not be included in the estimate.
Best Way to Ship Electronics
Picking the best service provider for your transport and logistics needs is crucial for getting your goods delivered to their destination safely and without delay. Read carefully through all the options before deciding on the one that suits you best. Consider the delivery times and insurance, pickup and tracking options, package prices and special offers, as well as company policies regarding public holidays and work days. These may vary from country to country and often you can expect delays around peak holiday times. It is always useful to read through the reviews of customers and make sure that the provider you choose has solid and reputable customer service.
Ship Your Electronics Risk-Free with UNIVAL Logistics
Get your void fillers and gummed tape out, you are now ready to pack and send! Remember, the most important thing when shipping electronics is careful preparation and choosing the right carrier.
Get in touch with us and we'll make sure your parcel reaches its destination quickly and safely, at a competitive price. Read more about our shipping and insurance options to find out why we are a trusted shipping partner for businesses and people across the country!