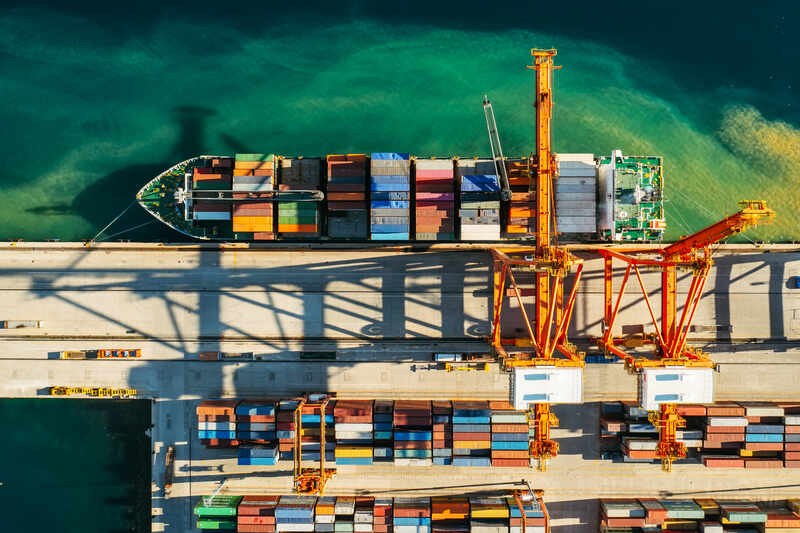 Supply chain management has become a critical component of every organization. In today's competitive environment, organizations must respond quickly while maintaining high-quality standards.
The supply chain is responsible for moving goods from suppliers to customers. The supply chain has three main components: sourcing, planning, and logistics. These processes involve multiple parties, each with its own responsibilities.
There are several ways to increase supply chain efficiency. This will help make sure you are staying ahead of the curve and providing the best possible services for your customers. If you want to find out how to optimize your supply chain, keep reading.
What Is Supply Chain Efficiency?
Supply chain management efficiency refers to the most effective use of all resources, including financial and technological ones. An efficient supply chain may have lower lead times, fewer operational expenses, and less time devoted to management.
A supply chain is a complex network of processes used in the production and distribution of goods and services to consumers. This includes obtaining raw materials from suppliers, transporting those materials through the appropriate manufacturing processes, and distributing final products to customers. To ensure that orders are promptly fulfilled, and operating expenses are kept to a minimum, an efficient supply chain has each step optimized.
Measuring the Efficiency of the Supply Chain
Making sure that your supply chain is operating at optimal efficiency is a crucial part of improving your operations. But how do you know whether the supply chain is efficient enough or if it needs refinement? Here are some key factors that will help you measure the performance of your supply chain.
Cost: Businesses must turn a profit with on-time supply, and by focusing on supply chain cost metrics, they can determine where there is room for improvement. This metric illustrates how effective various components of production are. One such crucial performance statistic that demonstrates how much it costs to transport goods in the warehouse is inventory carrying costs. Manufacturers are constantly looking for opportunities to enhance cash flow and, by extension, increase profitability.

Time: This metric includes seeing how quickly your operations are being completed, if your deliveries and receipts are on time, how quickly orders are processed and how long it takes to fulfill orders. Time is an essential metric to consider when you're thinking of ways to enhance your supply chain. If you are not seeing the desired results, it is time to think about ways to speed up processes.

Quality: The quality of your products, services, and delivery is a crucial part of determining supply chain efficiency. Customer satisfaction is the key to a successful business, so making sure the quality is top-notch is crucial. When measuring the performance of your supply chain, consider if there are any areas that need quality improvement.
These metrics are just some of the things you should consider when looking to advance your processes. To learn even more about the important facets of the supply chain, you can check out our guide to logistics and supply chain management.
How to Improve Supply Chain Efficiency
Now that we have explained what efficiency means in supply chain and what the key metrics are, it is time to give you some practical tips for improving your operations. These are some of the best supply chain practices.
Increase Visibility
Supply chain visibility has become crucial for any business, especially those operating globally. This means having access to real-time information about what is happening at each stage of the process, from raw materials to finished goods. The key benefits include improved decision-making, reduced inventory costs, increased customer satisfaction, and faster delivery times.
Enabling suppliers to examine your inventory in real time lets them better grasp your current status and make plans for meeting future demand. Internally, it enables team members to access information about your counts so they can strategize independently without running the pointless back and forth.
Giving suppliers, employees, and even customers visibility makes communication and inventory planning for the future much simpler. This also allows you to create a customer-centric supply chain.
Automate Processes
A lot of businesses struggle with how to automate supply chain processes. They want to reduce costs but don't know where to start.
The first step is to identify which process needs automation.

Then, determine whether the process has any manual tasks or requires human intervention.

Finally, you should ask yourself if the automated solution provides any real benefits to the organization. If yes, then you're ready for implementation.
Introducing automation to your warehouse activities can be a powerful way to increase efficiency. But this is not a one-and-done project.
Once you automate certain operations, you need to ensure that all automated processes are properly managed and maintained. To achieve this, you may need to provide suppliers, warehouse managers, and planning teams with extra education and training.
Maintain a Good Relationship with Your Suppliers
A meaningful part of the puzzle when it comes to an efficient supply chain is your supplier. Not all suppliers will perform as well as others. Because of that, one strategy to enhance your supply chain management is to cut ties with underperforming suppliers while building strong relationships with those who are better at achieving your company's objectives.
Keeping the line of communication with your suppliers transparent is a sure way to maintain a good and productive relationship. That is why you should find a way to ensure your supplier information is up-to-date and give suppliers updates on their purchase orders, invoices, and payments.
By improving your communication with the suppliers, you're enhancing your supply chain flow. Essentially, you're cutting down on the number of inquiries you get from them, saving all parties valuable time.
Optimize Your Supply Chain Regularly
As we mentioned, improving your supply chain performance is not something you can do once and be done with. It is a task that is always ongoing.
As your procedures and the business environment change over time, you might run into new inefficiencies within your processes. Also, the supply chain industry is constantly evolving, so new technologies are bound to come up and offer you even better results.
All this means that you have to constantly monitor whether there is room for improvement in certain sectors. You should regularly assess the efficiency of your supply chain and look for any chances to optimize it further. You should also be prepared to implement new updates and upgrades as necessary.
The Importance of an Efficient Supply Chain
An efficient supply chain is important for any business. A well-run supply chain ensures that all necessary items are delivered at the right time and in the correct quantities. This includes having a reliable inventory management system, which helps ensure that sufficient stock is available when needed.
The significance of improving your processes is reflected in the following benefits of effective supply chain management:
Reduced costs

Better customer experience

Quicker production

Optimal use of resources (human, financial, technological, etc.)
Overall, working out the best ways to make your operations are running smoothly and at top speed is the key to delivering satisfactory results.
Choose a Reliable Logistics Partner for Improving Efficiencies
Logistics is, of course, a crucial component of any supply chain. That is why working with a competent and reliable logistics company such as UNIVAL Logistics is a helpful way to boost efficiency and improve your customers' experience.

Team up with experienced logistics professionals and be sure your packages will arrive safely. We even offer full-value shipping insurance for your high-value goods. So in case your cargo gets damaged or lost in shipping, you will have full coverage. Get in touch and secure the best logistics services for your business.