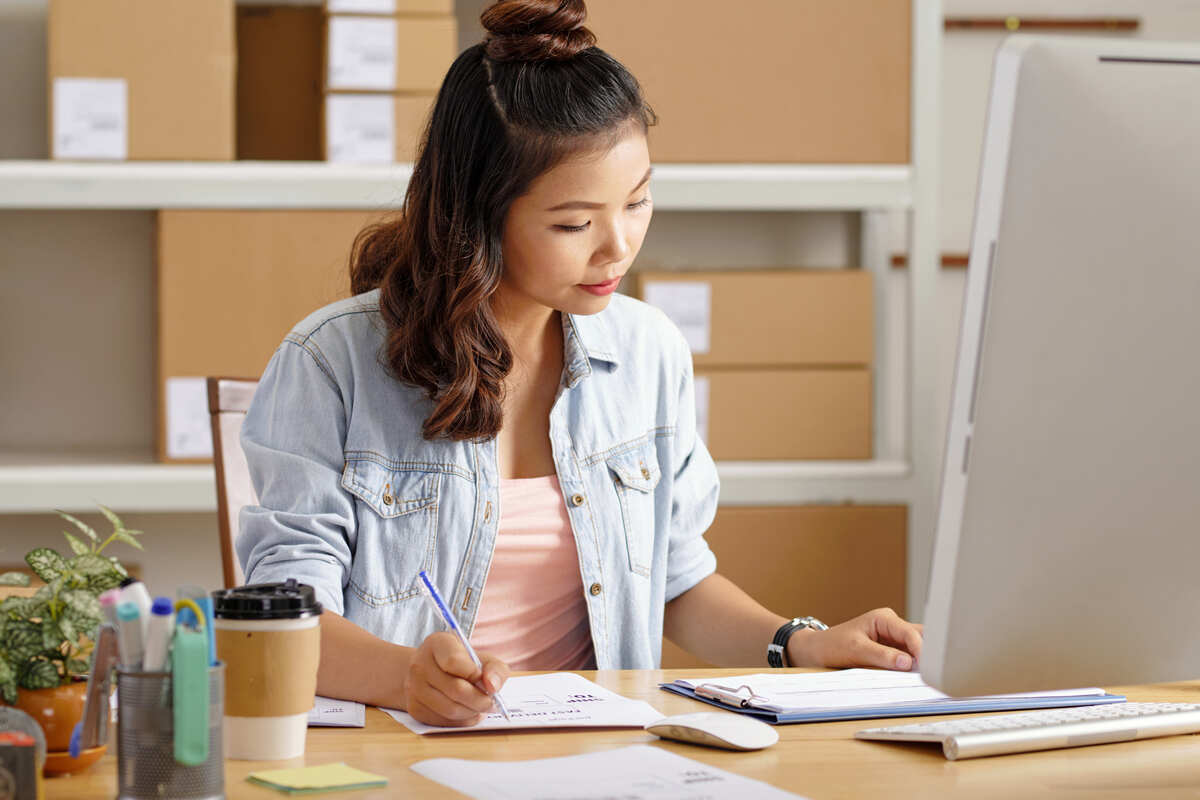 The eCommerce industry is growing at an insanely fast pace, and the logistics of shipping orders to customers have become more challenging. That is especially true when we consider the impact COVID-19 left on eCommerce supply chains.
One thing is certain - customers do not like to wait. And now that people are choosing online over brick-and-mortar, the speed at which customers will receive their orders can play a critical role in whether they choose to buy from your eCommerce store or your competitor's.
However, the eCommerce logistics infrastructure required to meet customers' demands is difficult to achieve by yourself. Online businesses need to learn how to put their brands in a spot to provide expedited shipping without putting in the resources, time, and huge investments.
Here, you will learn everything you need to know about eCommerce logistics, how it works, how it differs from in-store retail and the benefits of using third-party logistics providers. Plus, you will get several tips on how to make logistics solutions for eCommerce work for you.
What Is eCommerce Logistics?
eCommerce is the process of storing and shipping inventory for an online shop or marketplace. It starts with moving inventory from the manufacturer and ends when the inventory arrives at the customer's location. That said, eCommerce includes inventory management, picking, packing, and shipping of online orders.
There are millions of packages shipped across the country each day. That is why systems must be in check to keep them on track and ensure they are delivered to the right destination on time.
Digital fulfillment is one of the most vital elements of eCommerce logistics, and it includes inventory management, warehousing and storage, and order fulfillment. Each of these pieces is complex, and it can be challenging to keep them running smoothly together.
Online businesses need to ensure they have sufficient stock levels in a distribution center near that customer's destination. And if they outsource fulfillment, their 3PL must be reliable and fulfill orders at pace, even during holidays and peak seasons. That is because any laps within your supply chain can negatively impact the customer experience.
The 5 Elements of eCommerce Logistics
As eCommerce has developed and become a worldwide channel, it's become more complex. Now, there are many moving parts and middlemen who help ensure goods reach their customers.
Organizing logistics processes is even more challenging for those launching a B2B eCommerce channel as they need to take care of both logistics from manufacturers to retailers and from retailers to consumers.
Let's take a look at the five elements of logistics for eCommerce.
Suppliers
Suppliers are companies that make the product and ship it to fulfillment centers. If the business is dropshipping, the manufacturer sends the products directly to the end consumer. If not, the brand makes a bulk order and stores it in a warehouse. Then, it ships it to customers when they make their orders.
Fulfillment Centers
Fulfillment centers refer to the large warehouses that hold inventory near the end consumer. This way, each order is picked, packed, and shipped as soon as it is placed to ensure a quick delivery.
Fulfillment centers can be owned by an eCommerce company or a third-party logistics service provider (3PL). 3PLs are professional retail fulfillment companies that perform services for different brands.
Distribution Hubs
Big eCommerce retailers have their goods in many locations throughout the US or the world for both B2B and direct-to-consumer (DTC) orders. Splitting inventory allows for faster shipping of DTC orders instead of keeping all your inventory in one location, which can lead to longer delivery times and higher shipping expenses.
You may want to consider using a separate facility for B2B eCommerce orders as these require different fulfillment processes from DTC orders. These differences include packaging demands, eCommerce warehousing requirements, shipping destinations, and customer types.
Sorting Facilities
Sorting facilities sort products for large-scale eCommerce processes that are moving bulk quantities of goods.
Carriers
Carriers are companies that ship products to their final destinations. They get the package from the warehouse or the fulfillment center and ship it to the customer via plane or truck. Sometimes, an eCommerce business can use its private carriers for quicker delivery.
eCommerce Logistics vs. Brick-and-Mortar Logistics
eCommerce and brick-and-mortar logistics operate differently in several ways. While eCommerce logistics focuses on getting goods to the customer's location, brick-and-mortar logistics are getting products in stores.
End Destinations
eCommerce businesses can ship their packages to millions of customer addresses across the world. On the other hand, brick-and-mortar stores focus on distribution to and from wholesalers or shops.
Order Volume
eCommerce stores ship orders containing one to several items, typically via parcel, to various customers. On the other hand, shipments to brick-and-mortar stores can include hundreds of products that are sent to one destination on pallets via freight.
Home Delivery vs. In-Store Pickup
Bigger brick-and-mortar companies are moving toward using their stores as fulfillment centers. Also, retail locations may provide more flexibility to their customers in the form of curbside or in-store pick-up. However, eCommerce logistics offer the greatest convenience as they deliver directly to the customer.
What Are the Types of eCommerce Logistics?
Since there are various ways to manage eCommerce logistics, there are three types of eCommerce logistics:
In-House Logistics
In-house logistics means you manage the supply chain by yourself. This includes tracking shipments from the supplier to the warehouse and the different distribution centers or sorting facilities you might have.
It also includes using your eCommerce platform analytics and spending hours calculating the shipping expense of each shipment manually.
Dropshipping
Dropshiping refers to logistics where the supplier sends products directly to customers. This option is much cheaper as it eliminates warehousing expenses. However, it can increase delivery times dramatically. That's especially true regarding international shipping.
3PLs
3PLs handle every element of the logistics process so you can have peace of mind. They provide inventory tracking, supplier management, warehousing, and packaging. In addition, many third-party logistics providers have nationwide networks of warehouses that enable them to offer 2-day shipping and in some cases 1-day shipping.
Benefits of Using 3PLs
eCommerce businesses typically prefer using 3PLs as their eCommerce logistics partner because they get value out of them. 3PLs improve their customer service and lead to overall cost savings. That said, here are several reasons why online businesses prefer using 3PLs for their eCommerce fulfillment.
1-Day and 2-Day Shipping
Customer expectations changed when Amazon started offering same-day, 1-day, and 2-day shipping. That is when many online stores started to do their best to deliver a customer experience that resembles Amazon's.
The 10-day shipping era ended when places like Walmart started offering 2-day shipping and lower shipping expenses. Before, this was possible only by using FBA or Amazon's network of warehouses. Now, we have 3PLS that have a distributed network of facilities of their own.
Faster shipping and timely delivery need a fulfillment network of warehouses throughout the country. However, it is too expensive to build your own. That is why online businesses prefer using third-party logistics providers that have their own logistics networks.
More Data for Business Growth
One of the most significant advantages of using a 3PL company is the software automation they offer. This software streamlines the logistics process and delivers data and real-time insights on every part of eCommerce fulfillment. And they can help businesses turn these valuable insights into actionable steps.
For instance, logistical software can help a retailer understand they should open more retail locations in strategic areas. Moreover, they can help reduce excess inventory, enhance warehouse management, and help businesses become more eco-friendly by simplifying return and recycling processes.
Improved Return Processes
Third-party logistics providers make it easier for medium-large online businesses to manage returns. Online retailers and brick-and-mortar differ in this area - the return rate of eCommerce stores is almost half of all the orders, while physical retail stores have a return rate of not even 10%.
That is because you cannot try out products online before making a purchase. That is why many customers buy more products with the expectation they will return at least one of them if they do not fit or they do not like how it looks on them.
That is very challenging for online retailers. However, 3PLs can help them improve their return process and ensure it is running smoothly.
Scalability
3PLs have established relationships with suppliers and regional carriers. That is why they can help in every aspect of the eCommerce supply chain by connecting businesses with the right manufacturer, shipping carrier, and fulfillment partner.
3PLs can also get lower delivery costs, shipping discounts, and improve last-mile delivery. And this translates to a better customer experience, a higher potential to hit rapid growth, and more profit.
The Importance of Shipping Insurance
Although major shipping carriers try to be reliable, the size of their network and the volume of parcels makes errors unavoidable and expensive. When packages pass through many hands, there is a great risk your shipment will become damaged, lost, or delayed.
But by partnering up with an excellent 3PL company, you can lower this risk with affordable shipping insurance. That is especially true if your products are of high value.
eCommerce Logistics Trends of 2022
Here are some of the eCommerce logistics trends of 2022 to consider that can help you improve your customer experience and boost profits.
Fast Delivery
Same-day delivery options are rising due to the persistence and high expectations of millennials. They are more likely to purchase if the same-day delivery is offered and willing to pay more for it.
Besides having adequate technological capabilities, rapid delivery demands that online businesses expand their geographic footprint. Otherwise, it is physically impossible to ship a package from one side of the country to the other without spending huge amounts of money.
Last-Mile Delivery
A rise in customer expectations and an increase in online orders place additional pressure on last-mile delivery. Last-mile delivery refers to the transportation of a package from a distribution hub to the package's final destination to deliver it as quickly and cost-effectively as possible.
Logistics often fail in customers' eyes in this area. Many factors can cause this, including an issue with the local courier or the recipient isn't home. However, 3PLs go far to make last-mile delivery better for eCommerce brands and their consumers:
They often get quotes from major shipping carriers beforehand to obtain the best prices for businesses, meaning both online companies and their customers benefit from fast and affordable delivery.
3PLs typically analyze customer data to optimize shipping. With distributed inventory, inventory is split across strategic fulfillment centers and sent from the warehouse closest to the consumer. And when your orders travel to lower shipping zones instead of higher, you save money and time in transit.
They offer real-time eCommerce order tracking. Communication is crucial when it comes to last-mile delivery. You can access shipment tracking information in real-time and send them to your customers.
People who pay for expedited delivery expect to receive their packages when and where they ask for them. A failure during the last mile can have unfortunate effects on a business.
Make eCommerce Logistics Work for You
After reading this article, you know logistics management plays a vital role in any eCommerce business. It requires a fulfillment network of partners across the entire supply chain, a sharp eCommerce logistics partner, 3PL, and software that automates many processes for you.
However, an excellent fulfillment strategy is not developed overnight. But by looking at your business needs, you can start improving your supply chain step-by-step. If you gather the right partners and focus on meeting your customers' expectations, you'll be on your way to launching your brand to the stars.
If you are looking for the best logistics partner, contact Unival Logistics for everything you want to know, and we will be glad to help.