on Tue, Oct 31st 2017, 15:14
Five Things You Should Know About Shipping Insurance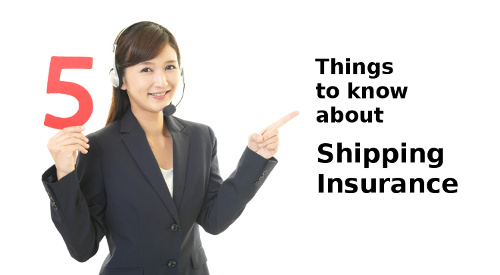 When you're a business owner who ships high value items, there is no substitute for a reliable shipping provider. There are plenty of variables in the day-to-day without the worry that your products won't be shipped on time—or worse—not be delivered at all.
Feeling confident in your shipping provider starts with understanding shipping, especially the things most carriers won't tell you.
Here are five things UNIVAL shipping professionals would like you to know:
1. Understand your Shipping Insurance coverage
Carriers will provide automatic coverage up to a certain amount, after that it is the responsibility of the shipper to purchase additional insurance. If the value of your parcel exceeds the automatic coverage limit, then you will need to purchase insurance for the entire package.
You can declare a certain value for your merchandise, which will allow you to claim losses from the carrier up to the declared amount. If no value is declared, the carrier will default to their included shipping insurance ceiling. If the declared value exceeds the ceiling, there will be additional costs incurred on the shipper. This additional fee guarantees loss prevention for the shipper.
Three important things to know as a shipper:
While carrier shipping insurance is a nominal fee, it can add up if you ship regularly.

Most carriers have included coverage at a maximum of $100 per shipment. Shippers can choose to insure their items for up $50,000 per parcel.

Some carriers, like UPS, will not cover items, such as coins, cash or precious stones
Shipping with Unival Logistics gives you the option to cover any high-value items up to $150,000 per parcel.
2. Declared value
Declared value and shipping insurance are not the same. In fact, most carriers won't outline the difference in hopes that you won't notice. Additionally, many high-volume carriers, like UPS and FedEx, fail to immediately notify the shipper of lost parcels, delaying the claim filing process to the point where the shipper could miss the deadline.
Shipping Insurance
Shipping insurance is typically included up to a certain amount with each carrier for free

The carrier will assume all risk for lost or damaged items during transit

Shipping insurance must be purchased for any amount exceeding automatic coverage
Declared Value
Declared value allows the shipper to incur losses up to the declared amount

If declared value exceeds automatic coverage, the shipper foregoes their free coverage and must purchase insurance for the full value of the item(s) being shipped

To collect losses, the shipper must file a claim with the carrier
3. Filing a claim
Submit the claim within the specified deadline

Send in all relevant documentation, including, but not limited to proof of parcel value, proof of insurance, shipment documents and repair estimates

Wait 5-30 business days to receive a refund and/or resolution
Unival Logistics makes our client claim filing process as painless as possible by providing each shipper with a designated customer service representative who works diligently to resolve any issues.
4. Benefits of third party coverage
Third party coverage will cost you more upfront, but it will cover all shipments made within a specified amount of time. Overtime, you typically incur much lower shipping costs. Plus, it includes door-to-door protection against loss, damage or any other unforeseen event. This type of coverage ensures that you know exactly what is covered, you receive personalized service for claims, and you can rest assured that your package will be handled with as much care as if it were in your hands.
The benefits of third party coverage include:
Lower cost coverage than typical carriers

Personalized service

Discounted and higher limit shipping insurance

Savings benefits for high-volume shippers

Easy claim filing and recovery
Third-party shipping with Unival Logistics is the most viable solution for business owners who regularly ship high-value merchandise.
5. Taking the hassle out of shipping insurance
Some companies promise discounted shipping, but this often comes at a price with larger providers, such as parcels getting lost, low accountability or sense of urgency with claims, and no personalized service.
If you decide to go with a third-party shipping insurance company, make sure it can meet your needs, deliver high quality service, and eliminate the stress from shipping. For instance, a company like UNIVAL makes customer satisfaction a priority: handling claims processes from start to finish, passing on savings to their clients, and personalized customer service.
Unival Logistics has been a trusted shipping option for 14 years, offering a proven and effective step-by-step procedure to handle highly valuable cargo—large or small, discounted shipping insurance, a network of terminals around the world, and a streamlined process that eliminates all of the extra work for the shipper.
From their customer service to their shipping guarantees, UNIVAL is the discount third-party shipping provider you need to feel confident that your valuable merchandise will arrive on time, every time. Get in touch with our team now to discuss your shipping needs Contact Unival.